I know what you are thinking.  Isn't this suppose to be fun?  An exciting challenge?  What's up with all these dark words like "masochistic" and "survival"?  If this is your first NaNo, don't let these words scare you off.  If you are a seasoned NaNo, know that we are all here with you.
The truth is, and I think we all know and understand this one, shit happens.  November is packed full of holidays and family obligations.  Everyone knows that the tryptophan in the turkey at Thanksgiving is probably going to cause you to end up in a coma for the rest of the month.  That or cousin Peter's peanut butter pie.
Sure some "amazing" people are able to squeak out exactly 1667 words per day, but what it really comes down to is that there are going to be days you may not be able to write.  And others you will have to sit down and push out more than 1667 to get caught up and back on track.
And you know what?  That is OK!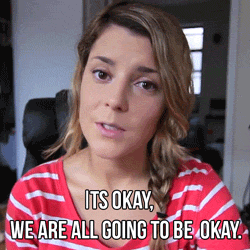 Because you made a commitment.  Not to NaNo.  Not to the writing community, but to yourself.  And if you can't keep your promises to yourself, what promises can you truly keep?
So how do we survive NaNo?  How do we cope on those days that we have to spit out 2500+ words?
With a NaNo survival kit of course!
A NaNo survival kit is exactly what it sounds like.  A kit of inspirational and delicious items that will help keep you motivated and moving forward.  It is whatever works FOR you.
Wanna see what's in my Surival Kit this year?  I haven't bought all the items (and once I do, I promise to throw everything together in a picture) but in the meantime, I can at least share what will be in my kit.  (Warning: this may change before November 1)
Shadowfever by Karen Marie Moning – No, your kit doesn't need this exact book, however, if you are looking for some Urban Fantasy, The Fever series is friggin amazing.  No, I personally find a lot of inspiration when I read.  And sometimes, that's exactly what you need to do during WriMo: take a few minutes or hours to enjoy something.  Something that inspires you to keep writing.
New Coffee Mug – Um, cause coffee and it's an excuse to buy myself a special cup just for NaNo, duh.
New bullet journal/notebook and pens – See my #Preptober Day 1 post for my outlining and note taking during WriMo
Happy Planner – Same as #3.  It's the only thing that keeps me on track.  Also stickers.
Chocolate – Delicious sweet delicious chocolate for the days I want to pull my hair out but also for every day because chocolate
Wine or whatever your vice is – I personally partake of wine and other infused items.  They have this beautiful window where I become incredibly creative before I crash and need a nap.  #Worthit
Moonology Oracle Cards – Because I certainly need the help of the universe to stay on track
Snacks – Because munchies
Inspiration cards – I create 30 flashcards at the beginning of the month, each with a different action on them (sometimes reused).  Whether it's surfing the forums, doing a word crawl, going for a run, whatever, it's a card that basically tells me to do something else.  A lot of times I find this is exactly what I need to refresh my game.
I'm sure I'll add more but this is my current rough draft for my kit.  Got any suggestions?